Tuesday afternoon from 12-6pm, participants engaged in hands-on work and collaboration in 18 studio sessions held throughout the Media Lab building. Here are a few highlights of the studios that centered around wearable technologies, biofeedback, and soft sensors.
Measuring Biological Signals: Concepts and Practice, led by Sean Montgomery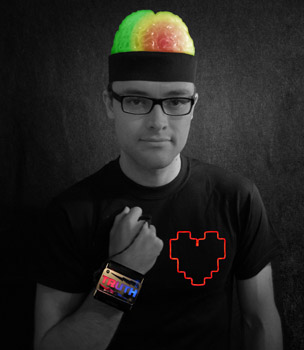 Left: Sean during the workshop
Right: Vital Threads Feedback Apparel (image via ProduceConsumeRobot)
This workshop concentrated on biological signals as a way to "create dynamic new forms of self awareness, personal expression and interpersonal communication." The topics covered were galvanic skin response (GSR), heart rate (EKG), and brain activity (EEG). More information on this workshop can be found here.
BodyHack Workshop, led by Daito Manabe
Muscle sensors and electrical stimulation enabled participants to use the body as an input and/or output device through a computer. The workshop also addressed harvesting the sensory data. Some photos from a previous workshop can be viewed here. Get the full experience of the BodyHack in action below (also from a previous workshop).
Making Textile Sensors from Scratch, led by Hannah Perner-Wilson

Left: Materials in the studio after the workshop
Right: A stroke sensor out of conductive thread (image via Instructables)
Building textile-based interfaces out of low-cost materials was the focus of this workshop. Participants made custom sensors with a variety of techniques including knitting, sewing, and felting to make bend sensors, stroke sensors, potentiometers, and more. Learn about the workshop and download a pdf here.
Wireless Wearables, led by Rob Faludi and Kate Hartman

Left: Putting together "Superhero Communicator Cuffs"
Right: My finished project I attended this studio sesson, which was an introduction to wearables using the Lilypad XBee. It covered various soft circuit techniques and projects using radio communication. We created "Superhero Communicator Cuffs" as a fun exploration of wireless communication between two XBees. This workshop was also taught at NYCResistor, you can see more pics and a video here.